Touched by Love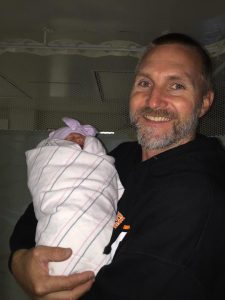 Two days ago, around 9 am, Thursday, August 20, 2015, this world received little Grace Lucille Smith, my oldest son's first and this man's fourth grandchild. As the morning unfolded and I was able to see my son, go in and greet my daughter-in-law, and finally see and hold this precious new life, I was hit with emotion at several different points bringing me close to tears, my eyes moistening and a deep push from within tempting to find its way out onto my face.
As I reflected then and even now on those moments I imagine a number of reasons were contributing to those bursts of emotion through my body. One was just the sheer reality of new life. Not just any new life, although all new life is precious and deserves to have the same embracing, loving welcome as did Grace. This new life was a further extension of me. She was my son's – a son in whom I have great delight. And this was my son's first. At 38 years old Shaun was receiving his first child into the world, and this dad was delighted for his son.
I am sure the emotion came from the fact that Corinne made it through the C-Section with no problem and that little Grace was healthy, a 7lb, 8oz little bundle of female joy. But along with all these thoughts, also contributing to the emotion was this fresh encounter with the sheer wonder and mystery of life.
Thursday was the first day we saw Grace in the flesh, but this little female human was given life 9 months earlier. That life was conceived through an act of love between a man and a woman and she grew and developed in the safe, loving environment of the womb. That is how God has purposed it. Love is to give birth to life. His love always gives birth to life. And when life is birthed, love is meant to nurture, embrace, care, and sustain it. My life, your life needs love to nurture and sustain it. That is how God purposed it.
That day I think I was overcome by love. Not just my love for Shaun and Corinne and little Grace, but a fresh encounter with God's love – his miracle working love – his tender, compassionate love – his love that brings hearts and people together in moments of connection – his love that strengthens and sustains our life, even when it is fragile and vulnerable.
Yes, I was touched by love that day and may I ever be touched by love. May I always be caught off guard by love's sheer beauty – by its power to give and create – by its ability to nurture and sustain the very life it births.